I can't believe that July is on the horizon….seriously snipping at our heels…..and Farley has decided to put up her July Currently a weeee bit earlier!  I couldn't believe it when I refreshed my Bloglovn' page and saw those Currently's pop up!  And for Farley's awesome linky party…if you snooze…you lose!  Here is my Currently!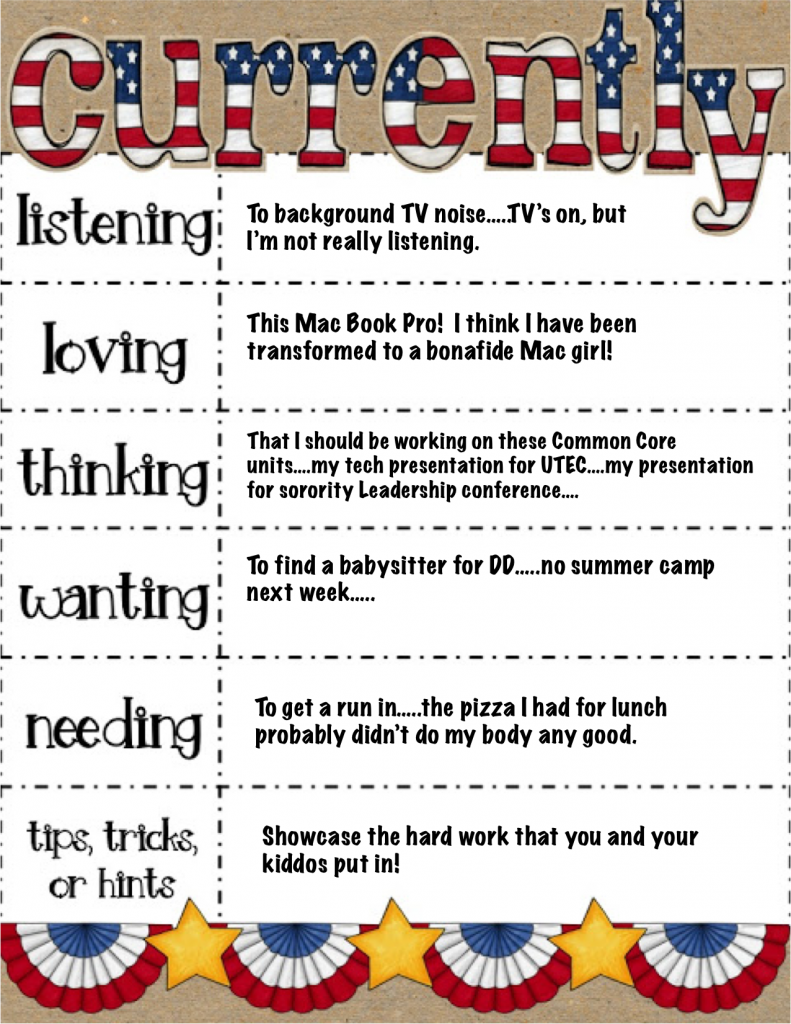 I have so many things that I need to do!  I'm presenting at the UTC (Upstate Technology Conference) July 9th and I know what I'm doing, but I don't KNOW what I'm doing…..you know what I mean?  My presentation is titled "Integrating Technology in the ELA Classroom" so of course I have so many things to share – but I only have an hour….
I'm also presenting at my sorority's Leadership Conference.  My presentation is titled "Exercises for Everyone" and I know what I'm doing, but I don't KNOW what I'm doing….you know what I mean? (I'm sure you can see where this is going)
So anyway, I probably should be doing a whole bunch of things besides blog stalking, facebooking, and instagramming….but….*shrugging* I've been a procrastinator for 37 years, why stop now?
I started back running a few weeks ago.  Using the C25K (Couch to 5K) program is a great way to start…..I should know – it's the same program I used four years ago!  Oh, I could kick myself right now!  Anyway, I really want to go for a run, but hubby is at work so it's just me and DD.
As for the tips….
Teaching Tip – Always do what's in the best interest of the children and you'll never go wrong.
Bloggin Tip – Showcase the hard work that you and your kiddos put in!  Your ideas, lessons, tips, and hints, will go a long way into inspiring someone else….trust me….
Head on over to Farley's and link up to this month's Currently.  And don't forget the rule of three…visit and comment on the 2 blogs before you and the 1 after.  I guarantee you'll learn something new.  I always do.
Until the next time,