I'm linking with Erin, Miss Lifesaver, for her End of Year Reflections linky party.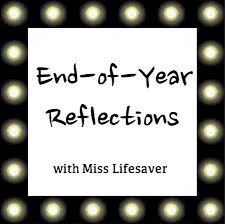 I don't know about you, but I can't believe that the last day of school is 5 school days away!  I've had an awesome year with an awesome group of kids and I'm going to miss them terribly.
Now for my……
End-of-Year Reflection Questions:
What was the biggest professional challenge you faced this year?
What was the biggest personal challenge you faced this year?
How do you think you've grown from your experiences?
1. I have had an amazing school year it's really hard to think of something.  I would say that my greatest challenges have been: (1) finding confidence in myself again and (2) teaching, I mean really teaching, writing again.  I have always been very proud of my instructionally sound lessons and great standardized test scores.  Mine have always been at the top and I have been able to produce well rounded children.  With my change three years ago to a new school, I went from 90 minutes to 60 and that made a huge difference. The first year our scores came back I cried like a baby.  Year two scores were better, but not what I am used to.  Although I am still struggling with the shortened time, I found ways to manage my time better and fine tune my lessons so that I was able to get the bang for my buck.  Unbelievably in fifteen years, I have never been directly responsible for students who would take our standardized writing test.  In North Carolina students take the standardized writing test is 4th and 7th and when I moved to South Carolina students only took the writing test in 5th and 8th.  I was absolutely terrified!  But, with the help of my coordinating teacher and an 8th grade ELA teacher, I think the kids did a good job.  We worked our butts of those last few weeks, but they all seemed very confident on test day.
2.  I think my greatest personal challenge has been balance between work and home.  My DD is autistic and started first grade this year. I have been so worried because these years will be so important for her and with her language delayment (she didn't start talking until she was almost four), I know that reading will always be difficult for her.  With DH working a second job at night, home cooked meals have been far and few between.  My partner and I spend long hours at school which makes our evening short.  Thank goodness for after school care because homework is done before we get home.  All we have to do is review and get ready for tomorrow – which until last month was all me.  But, last month I decided that Miss Cam was going to start helping out.  She is now expected to pick out her clothes for the next day and pack her lunch box.  Those few changes have made such a huge difference in our night routine.  She is also now responsible for unloading the dishwasher and folding her underclothes.  I'm a very proud mama!
3.  I've learned to trust myself more and that it's ok to rely on others.  In the past, I used my co-workers to validate my ideas, but never to give me new ideas.  I even switched classes with a partner to have her teacher a writing lesson to my students because she does an excellent job at it!  I've also learned to  allow DD to become more responsible.  We will not use her autism as a crutch!  She will be successful because she is smart and knowledgeable, and sweet as pie! 🙂
With our iTEL pilot being funded (iPads in the hands of every sixth grader)….I know that there are plenty of challenges ahead.  There will also be some new changes on the horizon (we're getting a new superintendent…which means we're probably getting new district office staff as well) but I'm definitely excited about what's to come!
Want to link up?  Head on over to Miss Lifesaver by clicking on the photo above.
Until next time,