This year, our Christmas break didn't begin until 3:20 on Friday, December 21st. That's right….as I imagine your slack-jawed expressions….we kept our kiddos aaaaaallllllll day on the Friday right before Christmas!
But, we came up with a wonderful idea that made that Friday a day to be proud of. Our sixth grade team decided to have do a "Book In A Day" activity. On this day, we listen to an entire book in one day, with students hearing different portions of the book in each class period. We divide the book into 30-35 listening sessions allowing time for a journal reflection at the beginning and team games using questions from the book at the end.
Dr. Ertzberger, Dean of Technology at the University of North Carolina – Wilmington, created a website that has a plethora of games using Microsoft Office. The great thing about these games is that most of them don't require any prep. You can use questions that you've just written down or typed up. Here is the link here: UNCW EdGames
We decided to do The Best Christmas Pageant Ever by Barbara Robinson. If you've never heard of this story, here is a quote from Amazon:
"The Herdmans are the worst kids in the history of the world. They lie, steal, smoke cigars, swear, and hit little kids. So no one is prepared when this outlaw family invades church one Sunday and decides to take over the annual Christmas pageant.
None of the Herdmans has ever heard the Christmas story before. Their interpretation of the tale — the Wise Men are a bunch of dirty spies and Herod needs a good beating — has a lot of people up in arms. But it will make this year's pageant the most unusual anyone has seen and, just possibly, the best one ever."
This book is absolutely hilarious! Let me tell you there is a scene in the book, where one of the Herdmans brings their cat to school (which is kinda described as a demon wildcat), and he destroys the class – eats the goldfish and another student's pet mice; as well as scratching everything and everyone in sight. Oh the imagery…….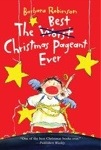 At the end of the day, we watched the movie that was created based on the book (which I found on youtube by the way) and the students created a Venn Diagram comparing the movie to the book. They had a great time and we had a nice quiet last day of school.
But, more importantly, it gave us another look at the wonderful miracle of Jesus' birth from the eyes of children who had never been exposed to The Christmas Story. So as I close out this post, I must quote Gladys Herdman, "Hey! Unto you a child is born!" I hope everyone continues to enjoy their winter break. We don't have to report to school until January 7th so I know I will!
Happy New Year!