Earlier this year, I attended a reading conference.  Being a technology geek, I of course planned to attend many of the sessions that incorporated reading and technology.  As I sat in on these sessions I began to think, "Hey! I can do this!"
And so I did.  While on Edmodo I saw where someone posted about submitting an application to present at the Upstate Technology Conference – and so I did.
The Upstate Technology Conference is a two day conference in Greenville, SC.  In addition to inspiring keynote speakers and the opportunity to collaborate with colleagues from around the state, this year's conference featured 250 break-out sessions highlighting the best of technology tools and strategies in today's classroom. The conference was free and open to all educators.  And it was *singing* AWESOME!
My session was called Integrating Technology in the ELA Classroom.  Here is a copy of the powerpoint that I shared with the teachers.
The morning of my first session I couldn't eat – I was so nervous!  But they went wonderfully!  I had an hour and I used every bit of it!  I could have easily done with an additional half hour – I adjusted my presentations each time to spend more time on things the other groups were interested in.
I uploaded a survey onto our Edmodo group and have received very positive results.  I wish that I had done a better job of reminding people to complete the survey, but the feedback that I got back was very positive!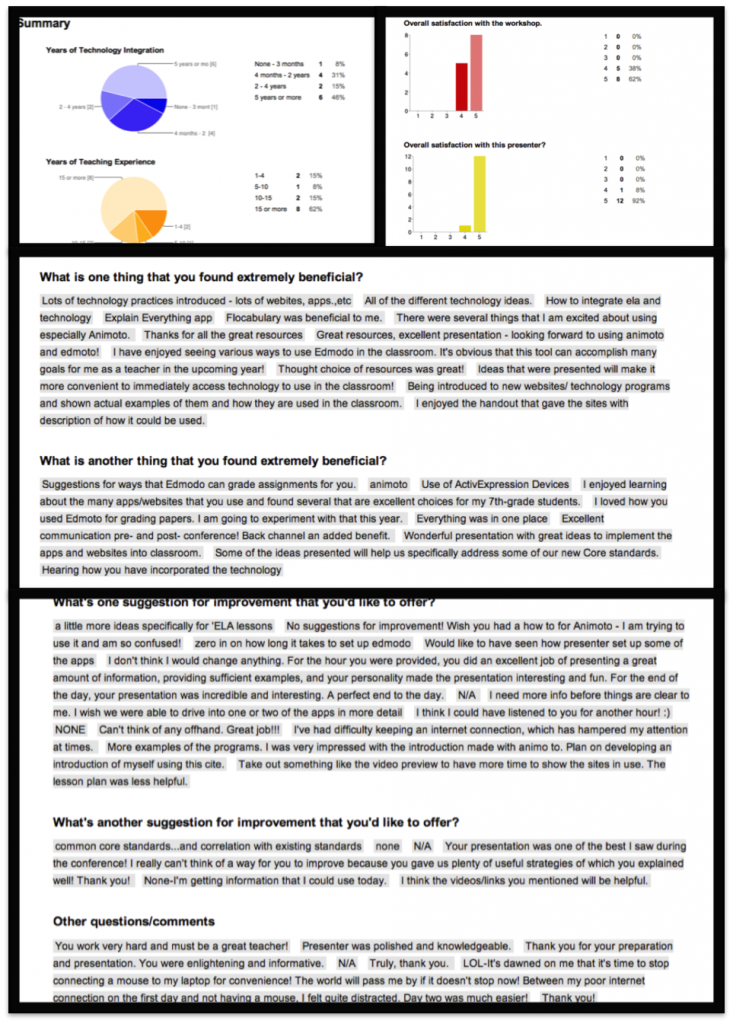 I have to admit, I enjoyed every bit of it.  I definitely think this is my calling.  Working with kids and fellow educators with technology.  I do believe that this is the beginning of an extension of my teaching career.
*I also received a nomination from Melissa  at Starting in 6th Grade!  I'm updating this post to reflect her questions!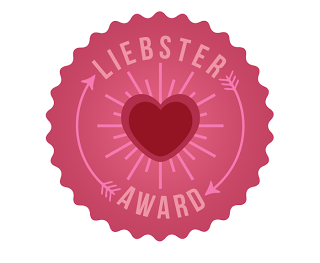 Liebster is German and means "dearest," "lovely," "cute," "beloved," and "welcome".
Here are the rules of Liebster Award:
1. Link back to the blog that nominated you.
2. Nominate 5-11 blogs with fewer than 200 followers.
3. Answer the questions posted for you by your nominator.
4. Share 11 random facts about yourself.
5. Create 11 questions for your nominees.
6. Contact your nominees by commenting on their blog or sending them an email to communicate the nomination. The blogs that I am nominating are…..
My Questions from Angela:
What made you decide to be a teacher?
I grew up in a family of educators.  My mother, paternal grandparents, two great aunts, and a host of cousins were all educators.  Spending time with these people and seeing their former students greet them with joy and fondness helped me to realize that I wanted to have that type of impact on other people.
How would you describe your teaching style?
I would call myself a hands-on techy geek teacher! LOL.  I love integrating technology into my teaching and have the students be active participants in my lesson.  I use flipcharts, ActivExpression devices, computers, and *soon* iPads to enhance the learning.  
Do you have siblings? If so, please tell a little about them.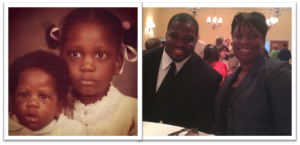 I have a BIG little brother.  I am five years older than him.  My brother works for a nearby university students helping those students that are having a difficult time adjusting to college life academically.  It's really amazing because he wasn't the best student – and uses his experiences to help students that remind him of himself.
He is a college All-American and was inducted into his alma maters Athletic Hall of Fame.  He also plays (well he actually says he's retiring) arena football.  We are his biggest fans!  We go to all the games and my baby girl loves cheering for her Uncle Quincy!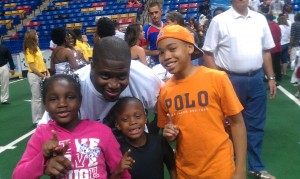 If you were a color, what would you be? Why?
I would love to tell you that I'd be green (calm, full of life, etc)….but I'd probably be orange.  I say orange because I'm hyper, full of fire and excitement, combustable.
What was your favorite grade in school and why?
My favorite grade was  my senior year in high school.  I only really needed one course, so the rest of my schedule focused on things that I wanted to do instead of things that I needed to do.  I was able to take AP English, Physics, Advanced Band and Chorus, things that focused on my interests.  
What gives you inspiration?
So many things!  My family….my friends….the amazing children that I touch everyday.
What is your favorite book? Why?
This is so hard….I have to choose just one?  I guess it would be 

Roll of Thunder, Hear My Cry

by Mildred Taylor.  It chronicles the Logan family an African-American family throughout the years of the Great Depression.  They are different from most African-American families because they are land owners during a time when most blacks were sharecroppers.  The story is told from 11 year old Cassie Logan who learns hard lessons about racism, Jim Crow, and knowing and believing in who you are.
I love this book because he draws all emotions:  joy, anger, pain, and sorrow. Little Miss Cassie is the perfect narrator who gives an excellent idea of what it was like to be colored in the South during that time period.
What kind of vehicle do you drive? Does this say anything about your personality?
I drive a Lexus RX300.  This car doesn't say anything about my personality – it is a testament to how much my parents love and support me.  My Mama gave it to me when she got her new car! 🙂
Do you play any musical instruments?
I play the piano, clarinet, and xylophone.  I also sing. 
If you could meet any historical figure who would you choose?
My answer changes frequently.  After watching Lincoln, Netflix recommended me The Conspirator about Mary Surratt, the only female to be put to death for the assassination of President Lincoln.  Lately I have been consumed with all things Mary Surratt.  I even found out that my cousin actually lives in what used to be Surrattsville and her house down the road from the museum.  Can you say "road trip"? 
So yeah, I would want to meet Mary Surratt and ask her what really happened.
What do you enjoy most about blogging?
I enjoy showcasing the hard work my students put in and being able to share and collaborate with other teachers.  I love making connections with other educators and seeing the wonderful things they are doing in their classrooms.
My questions from Melissa:
What was your experience on the first day of your first year in teaching like?
I had an absolutely wonderful first day and first year!  My first year of teaching was a sixth grade ELA/SS position.  My partner, Liz Surface, taught the Math and Science.  She was an excellent teacher and partner!  She was a bi t of a rebel and I'm glad.  She taught me to think outside of the box.  We took our kids on a field trip at least once a month (of course that was when gas was real cheap!) and provide great opportunities for the children.  She did ISNs all the way back then and they were AWESOME!  In addition to a great partner, I had a wonderful mentor who would even come to my room during her planning to give me a break. 🙂
What was/is one of the funniest things that has happened to you as a teacher?
One summer during summer school, I decided that I didn't want to have to worry about doing my hair so I bought a wig to wear.  Still thinking that I was young, I decided to get on the jungle gym with the kids.  I did a one legged rotation and ummm yeah…my wig fell off!  Absolutely hilarious!
What was one event you learned the most from?
I don't think that I can narrow it down to one event.  I learn something everyday that I continue to add to my professional knowledge.  
If you could live one place in the world, where would it be and why?
I would live somewhere in Southern California.  It is such a beautiful place.  I had family that lived there and when I visited, I would want to stay. I always said that if my husband hadn't proposed when he had – I would've been gone!
What would be one thing you wish was in your classroom, and how would it help?
Honestly, I'm so blessed – I actually  have just about everything I need.  If I have to choose something I would say…..I need a teacher assistant!  Someone to help me with the paperwork!  I despite grading papers which is why I use my ActivExpression devices and Edmodo any chance I get!  My principal takes pity on me and allows me to have student "helpers"; but the one I've had for the last two years is going on to high school and I don't know if I can find one that an incorruptible as her.
What is your favorite book to read with the students?
I can't just pick one…I'm an English teacher! 
1.  

Oh, the Places You'll Go!

 – I love to read this book to my students on the last day of school.  I love this book because it has so much hope for the future.  I always cry though, which is why I read it on the last day of school.  I don't want the kids to know what a crybaby I am!
2.  

The Watsons Go to Birmingham – 1963

– This book has to have the funniest beginning every!  When Kenny describes the "How to Survive A Blizzard" story and then when Byron gets his lips stuck to the rearview mirror, I cry too – but from laughter.
If you could live in any decade, which one would it be and why?
It would be during the 1950's for many reasons.  1.  The music during that time frame was unbelievable.  To live in the time period where Ella Fitzgerald, Billie Holiday, Ray Charles, and Dorothy Dandridge performed would be ideal for me.  This decade also saw the birth of the Civil Rights Movement, a time period that I am fascinated with.
Where did you go to college & why did you choose that school?
I attended Claflin University for my  undergraduate degree.  I didn't choose Claflin – Claflin chose me!  I had my heart sent on attending Hampton University with my cousin, Dannielle (who would have been a senior).  I'd spent my spring break with her, had already been accepted, and had received a partial scholarship.  I was very familiar with Claflin.  I had a great-uncle and aunt, who attended Claflin in addition to my mother and a host of cousins.  I WAS NOT GOING TO CLALFIN!  I received a full scholarship from Claflin but hid the letter from my parents.  Unbeknownst to me, they sent a second letter that my parents found.  I went kicking and screaming; but it was the best things I could have ever done.  Through my experiences at Claflin, I was able to travel to Europe,  meet life long friends and my hubby there! 🙂
If you weren't teaching, what career would you choose & why?
I really don't know.  I've only ever wanted to be a teacher.  But if I had to choose, I'd be a concert pianist.  Or be an accompanist for a famous concert performer. 
Are you planning on advancing your degree, in which area/endorsement?
I am definitely thinking of advancing my degree, but I'm not quite sure how.  I already have a Master's Degree in Educational Leadership, but I want to go back to school for Instructional Technology.  I'm having a difficult time deciding between getting another Master's or a Doctorate.
What is your favorite type of food?
LOL.  Any kind you eat!  Or the kind that isn't healthy for you!  No, I'm a meat and veggies type of girl.  Any kind of meat (chicken, pork, beef, turkey), and then all types of vegetables.  I could do without the starches – except when I'm dying for Chickfila french fries!
11 Random Facts About Myself
1. I sang in my Honor's Chorus in high school, my college concert choir in college, and was a part of a girls singing group.  We even went to perform at the Apollo Theatre in New York.
2.  I love to travel!  I've been fortunate enough to have been to Europe, as well as many other places in the United States.  My favorite place to travel is New York – I love to city!  But only to visit….I wouldn't want to live there.
3.  I am a voracious reader.  When I was in high school, I would make my friends "steal" paperback romance novels out of the public library for me….until I found out that they give those books away for free. *shame face* I don't like the public library because I don't do very well with returning books.  So, I just buy them.
4.  I'm actually a very shy person.  It takes a monumental effort for me to not appear that way.  But  do it, because I know that I have to put myself out there in order to build relationships.
5.  I have four best friends.  We have been best friends for over 20 years.  I've known all of them all my life – but we officially became to 2 Hype Posse in 1989. 
6.  I'm a non-traditional military kid.  My dad was in the Air Force but my mom didn't want to uproot herself (and subsequently her children).  He came home to visit us during the holidays and we stayed wherever he was during the summer.  So I got to see much of the world without being constantly uprooted.  I really appreciate both my parents for agreeing to that decision.
7.  Before my parents built their home, my mother lived with my grandparents.  I was even born there.  When my grandfather died my grandmother never spent another night in their home and then moved in with us completely about three months later.  She was definitely one of my biggest supporters.  My first word was "Ma", but it was for her and not my own mama!  She even bought a piano for our church fellowship hall so I could play for Sunday School.
8.  My hubby and I are celebrating our 10th anniversary – TODAY!  We have known each other for 20 years.  Of course we all know that marriage isn't easy, but I have enjoyed every second of our time together!
9.  I'm addicted to Coke Zero.
10.  I love peanut butter.  Peter Pan Reduced Crunchy is my favorite.  I sometimes just scoop out a spoonful and eat it with milk.
11.  I don't want to tell her, but my mama was right.  When I was acting up as a young girl and teenager she always told me "You reap what you do".  And my little girl is TWO handfuls!
My questions for Marion, J, Michelle, Erin, Mrs. K. and Katie:
What was your favorite subject in school?

What is your favorite song right now?  The one that you blast in the car riding down the street!

What's your favorite place to vacation?

What's your most memorable teaching moment?

What are your hobbies?

What was your first job?

Who makes up your family?

Who was your favorite teacher and why?

What's the best piece of teacher advice you ever received?

What's the last movie you watched?  What were your thoughts?

If you could be any animal what would it be and why?
Also, if you have some time, make sure you participate in my 100 Follower Giveaway.  The image below will take you to the giveaway.