Gregor the Overlander by Suzanne Collins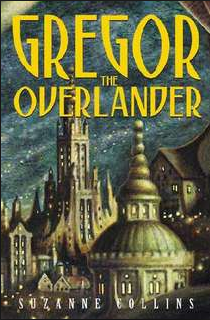 This book is written from the viewpoint of Gregor, an 11 year old boy who lives in New York City.  His father mysteriously disappeared two years ago and as he is watching his two year old sister, Boots, they fall through an air vent that takes them to Underland – a world where humans and various animals live as  almost equals.
I give this book 5 out of 5 stars.
BN Summary:
In the first novel of the New York Times bestselling series by Suzanne Collins, author of The Hunger Games, young Gregor falls through a grate in the laundry room of his apartment building and hurtles into the dark Underland. This strange world is on the brink of war, and Gregor's arrival is no accident. A prophecy foretells that Gregor has a role to play in the Underland's uncertain future. Gregor wants no part of it — until he realizes it's the only way to solve the mystery of his father's disappearance. Gregor embarks on a dangerous adventure that will change both him and the Underland forever.
When eleven-year-old Gregor and his two-year-old sister are pulled into a strange underground world, they trigger an epic battle involving men, bats, rats, cockroaches, and spiders while on a quest foretold by ancient prophecy.
********************************
Oh my goodness!  I could just KICK myself.  My librarian recommended this book to me two years ago and I've finally read it!  My family traveled to Maryland this weekend, and I was scouting around for a book to read on the trip.  I definitely hit the jackpot with this one!
I love, love, love The Hunger Games series and this book by Suzanne Collins does not disappoint!  I read the book in one day, in a car, where I usually get carsick if I read for a long period of time!  Today I asked if any of my students had read it – and not a one had!  I couldn't believe it!  This year I definitely have some voracious readers and this book has been a sleeper!
This book has all of the elements of a fantabulously awesome book – suspense, intrigue, and a good bit of humor.  My favorite line:  Right after Gregor has confirmed the fact that he is "THE OVERLAND WARRIOR"….maybe?
"I am the warrior.  I am he who calls."  
The bat was still for a moment, then nodded. "It is he."  She spoke with such certainty that for a second Gregor succeeded in thinking of himself as a warrior.  A bold, brave, powerful warrior that the Underlanders would tell stories about for centuries.  He could almost see himself leading a squadron of bats into battle, stunning the rats, saving the Underland from – 
"Ge-go, I pee!"  announced Boots.
And there he stood, a boy in a goofy hard hat with a beat-up flashlight and a bunch of batteries he hadn't even tested to see if they still had juice.
The mighty warrior excused himself and change a diaper.
Now, that I have fallen desperately in love with this book, I will be hunting down the second one right after this post…posts! 🙂  And I will hound every single child until they've read it too!
Until next time!