Happy Sunday, folks! Today is my last day of Spring Break and I'm spending it on the road heading home from Maryland. Traffic……Uggghhhh.
But, I found a linky that I thought would be very helpful and it would help me pass the time as I ride along. Joanne over at Head Over Heels is hosting the Spark Student Motivation Saturday linky party. And yes, I know it's Sunday, but better late than never, right?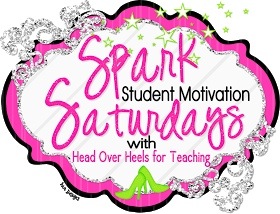 I use Class Dojo as my classroom management tool. The points that students earn from Class Dojo are switched into money (which I call Jefferson's Bucks). At the end of the quarter I have my Jefferson's Jam. Students that have earned enough money get to order subs or pizza, play games, and dance to music. This system costs me ZERO dollars. The kids bring in treats for the party and the money for the food!
If you're interested, click on the link here to read more about Class Dojo and my last Jefferson's Jam!
Until the next time!