;
Get Ready for Bloggy Olympics!!!
;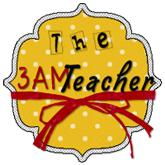 Join The 3AM Teacher, the Reading Olympians, and over 80 SUPREME education bloggers as we take you through a tour of the Reading Olympians Root Study Program!!
I was so fortunate to hook up with teachers all over the nation to participate in the Reading Olympians project hosted by The 3AM Teacher and Krista Miller and Julie Kiss, The Reading Olympians! I must say that this is an awesome resource and I can't wait to use it from Day 1 next year.
I have worked on Greek/Latin roots with my students, but very sporadically. I used them mostly during my bellwork lessons, with little connections during the regular classroom day. The Reading Olympians provide a constant connection with these roots and in a no hassle way! In our current standards we have a set number of roots/stems that we are required to teach in each grade. But what if they've missed them from the previous year….*shrugging*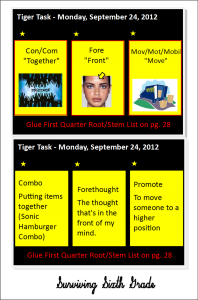 Since we were on Spring Break last week, I was able to complete one unit with my students. We have our state standardized test in 4 weeks, and since I only have 60 minutes with my core classes, I decided to use this resource with my elective class. They jumped right into it!
This week was very teacher directed – on Monday, I showed them examples from the packet and they worked in groups to create their own. I actually uploaded the unit into a flipchart for us to use together. Tuesday – Wednesday, I had them work together to complete their graphic organizers, I shared my examples, and they shared theirs. They used the dictionary and thesaurus correctly and their hard work paid off! Our of 14 students, 5 didn't score 80% or better the first time! Out of those 5, only 1 needs to do another re-test.
I gave them the following criteria on the scoring rubric for their graphic organizers:
1. Complete all four squares in the organizer
2. Make sure you have three words in your word box.
3. Be able to explain your words.
4. Add color to your graphic organizers.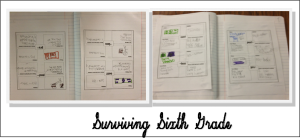 Three of the five stayed after school with me that day, created their flashcards and quizzed each other until they were comfortable retaking the test. One students (who is really low) went from 20% to 80% just after spending thirty more minutes with a partner quizzing each other using the flashcards.
I also created a quizlet flashcard set for the Nike Unit…find it here….Nike Unit Quizlet set. I will continue to create those for students to practice with. I'm using my bulletin board to highlight our Reading Olympians program this year. Teaching so many students (110), I don't think I will be able to do the necklaces, but I'm looking into figuring out a technology interactive way to do it. It will be one of my summer tasks. Since each child will have an iPad next year, I may buy one necklace and then create it as an Edmodo badge to assign to students. Eureka!
I want to work on creating an additional test for those students who have to retake the test. My sixth graders are verrrry slick (well, they think they are!) and I don't want to hassle of trying to figure out if they are trying to cheat.
My top concern is time. Last week, it took pretty much 30 minutes to work on the program. I am interested in seeing how the time decreases as we continue to work. I can't afford 30 minutes a day in my 60 minute class period. If you have an ideas for a departmentalized classroom, please leave me a comment or drop me an email. Also, make sure you follow my blog and the other blogs in this series to be in the running for some amazing prizes!
Discover the program IN ACTION in more K-6th grade classrooms as you Pass the Torch!! Get ideas, discover the progression of the program, and enter the Raffle for a chance to win ONE of the three prizes listed below!!


First Place Winner : Gold Medal


Prizes: Complete Reading Olympians Program
$50.00 Amazon Gift Card
50% off Discount Code for a 1-Day shopping spree at The 3AM Teacher's Etsy store!


Second Place Winner: Silver Medal


Prizes: $25.00 Amazon Gift Card
40% off Discount Code for a 1-Day shopping spree at The 3AM Teacher's Etsy store!


Third Place Winner: Bronze Medal


Prizes: 30% off Discount Code for a 1-Day shopping spree at The 3AM Teacher's Etsy store!
;
Thanks for stopping by! Next stop, Sweet Rhyme – Pure Reason, a 5th grade teacher who has put her own awesome spin on the Reading Olympians project! Click on the torch at the bottom of this post to visit her page!
Pass the Torch!!!
Click the image below to visit the next blog
Kindergarten:
Grade 1 & 2










Grade 3 & 4








Grade 5 & 6
a Rafflecopter giveaway

Until the next time!

r