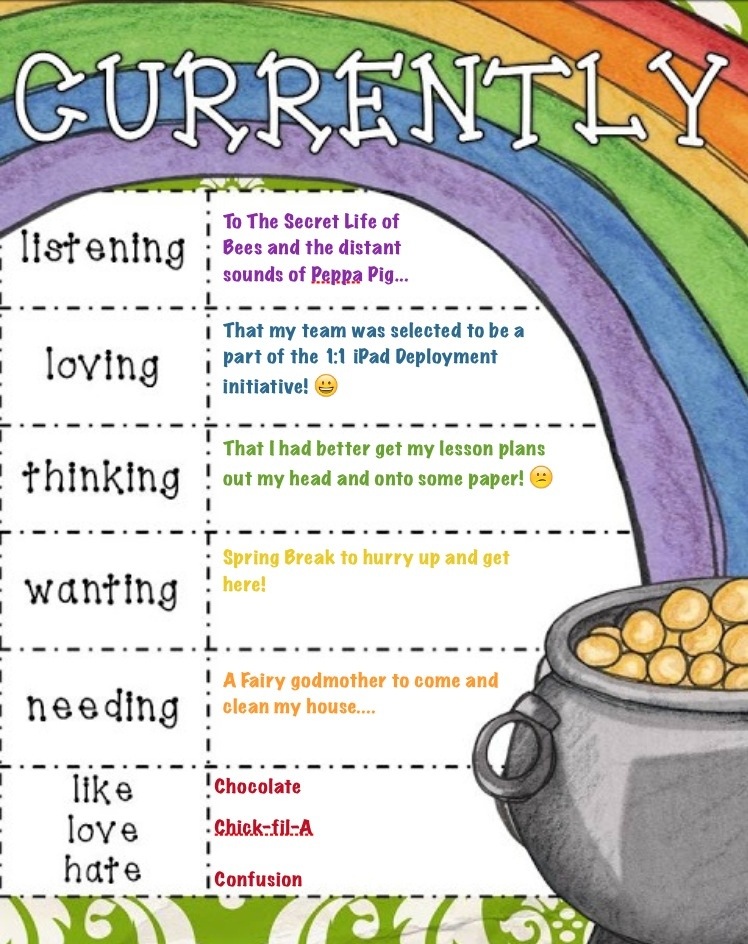 It's always exciting to join up with Farley at Oh' Boy 4th Grade….. for her Currently linky party!
Baby Girl got sick on Thursday and has passed it on down to me! But why isn't it the same? She was coughing and wheezing. I, on the other hand, am coughing, sneezing, running AND stuffy nose (how does that work?), and aching. I have been in and out of the bed all day (more in than out), and at least got dinner cooked for my family, but that is it! Gonna need some help getting the rest of my stuff together for next week…..sigh
Oh yeah! My team has been selected to participate in the iPad deployment initiative and we are beyond excited! Still trying to wrap my head around it….and Common Core…..and other opportunities that are to come. Gonna stop now, getting overwhelmed…..
My house is a mess! My plan was to work on two rooms this weekend, but that didn't happen. Anyone have a fairy godmother they can lend me?
This month, Farley asked us to use the first letter in our first name to complete the bottom item (which I have to admit I did not do, initially, because I didn't read completely).
I like Chocolate….a lot. But, it doesn't love me quite as much….My willpower used to be better, so if someone can find that pesky thing and send it back to me I would greatly appreciate it!
I loooove Chick-fil-A! Did you notice how my top two include food? That missing willpower again…My friend and I carpool together and we have been there at least twice a week in the past three weeks. Hey! Can someone tell me why the Chick-fil-A craving comes strongest on Sunday when it's not open???
And…….I absolutely hate…..detest….abhor…CONFUSION! But as a middle school teacher, I see it a lot! But, I absolutely love…..adore…..am smitten with middle school children! You take the good with that bad, right?
Alrighty! Want to link up? Go visit Farley's blog and follow the linkz instructions. And don't forget the rule of 3….Comment on the two posts before yours and the one after!
Until next time!