It's Sunday already? Well, if it's Sunday, that means it's time to hook up with Mrs. Laffin's Laughings "A Peek At My Week"!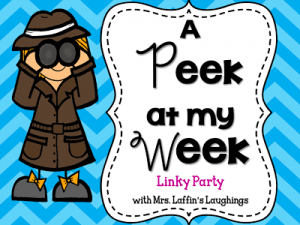 We're continuing with writing this week, with a brief interruption for benchmark testing.  Last week, students wrote on a persuasive writing prompt and I did a lesson using the Backwards Design Model.  In the Backwards Design Model, students write first then complete their graphic organizer based on their writing.  They really get a chance to see how "skimpy" their writing is without pre-planning first. If you want to know more about the Backwards Design Model, click here.

This week, I'll meet with students in groups for writing conferences.  In order to group them according to similar needs, students will complete a conference planning sheet in a Google Form.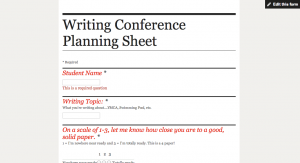 It is my hope that since we're meeting in groups, we can practice peer editing skills where they can give each other ideas as a way to beef up their writing.
Final drafts will be posted on their blog on Friday!
Until the next time,