Oh my…..I'm trying not to be stressed, but I am so stressed, and so trying not to be…..HELP! Tuesday is D-day….my kiddos take the ELA portion of our standardized test. We have worked hard this year, and I am so proud of the work they have done. We met our MAP goal and exceeded our benchmark goal and I can SEE how hard they're trying. It just breaks my heart that all their hard work is ignored in the face of this one test. Because the truth of the matter is this…..if they read on a fourth grade level, then who can expect them to pass a sixth grade test? And that's what really breaks my heart…those students who work their butts off….but just can't handle the content….
But N-E ways (as my kiddos say)……
In preparation for testing next week, we are having a celebration on tomorrow. Now, THIS I am utterly excited about! Our grade level is competing against other grade levels for some major prizes! And again, they have come up with some down right AWESOME things to do! And I do mean AWESOME! I can't wait to post the pics and video up tomorrow.
And I work with an AMAZING group of teachers. We're going to serenade the kids tomorrow. I found a song that someone…I need to look it up so I can give her credit….created using the song, Call Me, Maybe – changed it to Test Me, Baby. I switched it up to PASS This, Baby (PASS I our test acronym) and my amazing cousin sang the lyrics on an instrumental track, because none of us can sing like that it it would've been just pitiful….lol.
On now on to May's Currently….
I truly can't believe that it is May already! It seems just yesterday I was getting ready for the first day of school and we are now five weeks away from the last day of school……wow!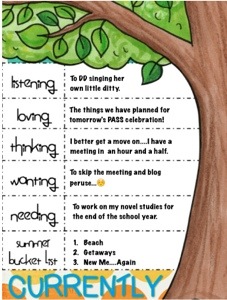 My Summer Bucket List
1. We only live an hour and a half away from the beach….but hardly ever go. For one, I can't stand the summer beach traffic! But DD loves the beach so this summer we are definitely going…..and more than once!
2. Over the summer I have Girls Getaways with my sorority line sisters and my best friends. We always have so much fun! I can't wait to hang out with them, laugh, party, and reminisce.
3. 5 years ago I lost 100 pounds. How? Clean eating and exercise. Somehow I've gotten away from that and gained back waaaaay more than I like. So, I've joined up with my cousins to get our healthy sexy back! We have our own little group on Facebook where we encourage each other and hold one another accountable.
Well, I really need to get ready so, I'll holla at'cha later!
Until the next time,